The Fanatics Sportsbook at FedExField, home of the NFL Washington Commanders, plans to open a week from today on Friday, Jan. 20, 2023.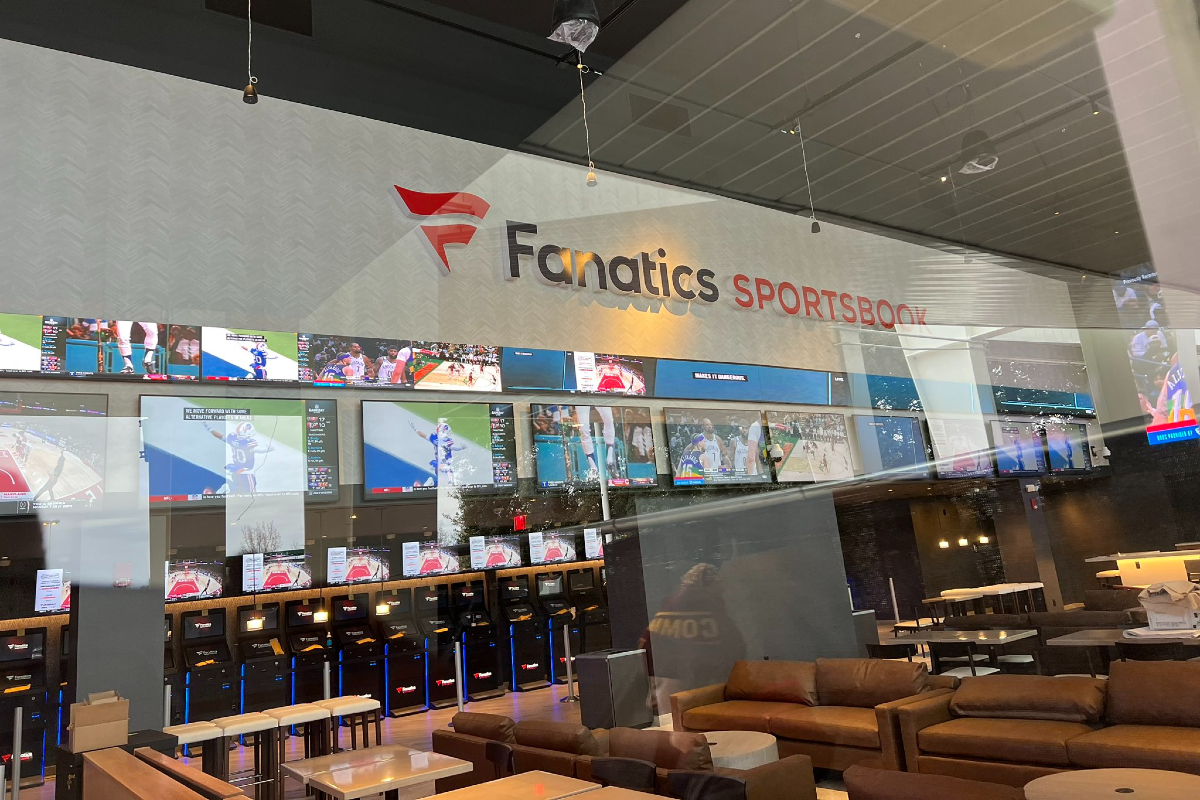 When Fanatics opens its sportsbook at the Commanders' home, it will become the first sports betting facility inside an NFL stadium.
The BetMGM Sportsbook at State Farm Stadium in Glendale, Az., was the first sportsbook facility to open on the campus of an NFL stadium. It commenced operations ahead of the 2022-23 NFL season. But that 17,000-square-foot facility is outside the ticketed area of the Arizona Cardinals venue.
The Fanatics Sportsbook at FedExField will be physically inside the NFL stadium. The book will be accessible through its own entrance at Gate H near Garrett Morgan Boulevard and FedEx Way.
Fanatics' first retail sportsbook will be open seven days a week from 10 a.m. to 12 midnight for in-person betting. The sports wagering space will feature a video screen wall displaying live sports from around the world. Bar food and drinks, including alcoholic beverages, will be served.
No Betting During Home Games
Fanatics partnered with FedExField and the Washington Commanders to gain market access to Maryland's emerging sports betting industry. The Washington Commanders play their home games about five miles east of the nation's capital in Landover, Md.
While placing a sportsbook inside an NFL stadium in a state where such gambling is allowed might seem like a no-brainer, the Fanatics opening has some industry analysts scratching their heads. That's because NFL rules prohibit in-stadium betting during home games.
The NFL allows sportsbooks and casinos to market their brands in stadiums. But when games are contested, no on-site wagering is allowed inside the gated areas. For Fanatics, that means its FedExField sportsbook won't be able to take retail bets when the Commanders are playing at home.
The NFL hasn't said whether the prohibition begins at 12:01 am local time on game days, or if betting is to cease when each game officially begins. When betting can resume is also unclear. Fanatics reps say they're working with the NFL to determine such regulations before the 2023-24 NFL season.
Fanatics doesn't have to worry about the NFL component until next summer. The Commanders' season wrapped up last week after the team missed the playoffs for a second consecutive year.
Marketing Ploy
Though the in-stadium Fanatics Sportsbook won't take bets during Commanders' home games, the facility will be open for food and beverage service. The facility will also market the Fanatics Sportsbook — and likely, its online platform — during the games.
Maryland additionally allows online sports betting. And though Fanatics hasn't yet applied for an online wagering license with the Maryland Sports Wagering Application Review Commission (SWARC), the sports betting newcomer is expected to bid before the kickoff of the 2023-24 NFL season.
While prohibiting in-person stadium betting during games, the NFL does allow fans to wager from their mobile devices so long as the host stadium is in a state where online sports gambling is allowed. So, Fanatics will presumably use its FedExField sportsbook for marketing its app to patrons during the team's home games.
Sportsbook staff won't be able to take cash bets from fans. But they would presumably be able to educate new patrons on how to download the app and wager through their mobile devices.
The Fanatics Sportsbook is not yet live in any state. But the apparel company turned gaming and sports betting operator has received a few provisional licenses. Along with its sports wagering concession in Maryland, the Fanatics Sportsbook has received approvals in Ohio and Massachusetts.
Fanatics CEO Michael Rubin said at the CAA World Congress of Sports in October that he plans to have the sportsbook operational in "every major state besides New York" in time for the 2023-24 NFL season.
The post Fanatics Sportsbook Inside FedExField Won't Take Action During Home Games appeared first on Casino.org.